DCI is partnered with industry recognized solution providers and leading IT research and advisory service providers to offer the most advantageous, state of the art solutions to our customers.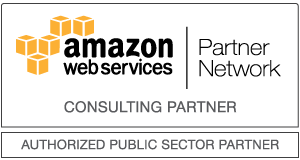 DCI has worked with Amazon since 2009. AS an established AWS Consulting Partner and AWS authorized Re-seller to both Government and commercial customers, DCI leverages Amazon Web Services' sophistication and scalability to support our customers infrastructure and application needs while optimizing cost and reducing complexity.
DCI has executed FedRAMP compliant cloud implementations for several federal agencies. Our team has migrated several programs and applications to the AWS cloud, and helped customers modernize and secure their IT environments.
As a Cloud Brokerage Service provider DCI helps our customers through every phase of their cloud adoption continuum, from assessment to implementation and support providing an end-to-end managed cloud solution.
About Amazon Web Services
Amazon Web Services offers the most comprehensive cloud computing resources, products and services to individuals, corporations, and governments worldwide. With more than 90 services for compute, storage, networking, database, analytics, application services, deployment, management, mobile, developer tools, and Internet of Things (IoT), Amazon Web Services holds the dominant share of the cloud computing market.
To learn more about DCI's AWS cloud services and solutions click here
To learn more about AWS click here
---

DCI has partnered with Gartner, Inc. to leverage Gartner's IT research and advisory services to provide our clients with solutions driven by latest technology trends, industry best practices, and data-driven research.
About Gartner
As the world's leading research and advisory company, Gartner, Inc. provides technology insights empowering business leaders with guidance and tools necessary to make the right decisions that impact their business at the right time. More than 12,000 organizations, irrespective of industry or enterprise size, in over 100 countries, trust Gartner's research and advisory services.
To learn more about Gartner click here
---

DCI has been building fully managed Web Content Management Solutions since 2007. We have partnered with Acquia to provide our customers with comprehensive Web Content Management (WCM) solutions. Our managed services solution offers our customers more reliable framework to support their web application and content management requirements.
About Acquia
Acquia is a software-as-a-service company established in 2007 to provide enterprise products, services, and technical support for the open-source web content management platform Drupal.
To learn more about Acquia
click here
---